YouTube clips of Anti-Uranium rally in Queen's Park
speaker Elizabeth May
Green Peace Speaker Shawn Stensil
speaker Robert Lovelace
speaker Lorraine Reckmans
speaker Susanne Lauten
Articles, letters and information on the proliferation of mining in Southern Ontario
— IT'S HAPPENING CLOSER THAN YOU THINK —
____________________________________________
July 8 — Toronto Star article by Jim Coyle: "Don't sneer at local fears — the cause can be just."
URGENT: Tell the local MPP in your home riding NOT to vote for Bill 173, the Mining Act Revisions
July 4 — Synopsis of Randsburg Intl. Gold Corporation Annual Reports, as provided by a cottager
July 4 — Flyer for PROTEST RALLY: STOP URANIUM EXPLORATION/MINING IN ONTARIO!
SEPTEMBER 27, 2009, 2-4 PM, QUEEN'S PARK, TORONTO
June 27 — An interesting exchange between Susanne Lauten and Andy Muirhead
June 25 — FOCA Comments on Proposed Amendments to the Mining Act
June 20, 2009 — Statement from Susanne Lauten, Cottagers against Uranium Mining and Exploration (CUME)
June 6, 2009 — Why is someone drilling in my backyard? — by Peter Gorrie, the Star's former environment reporter
____________________________________________
Contact—write or VISIT—your local MPP in your HOME RIDING. Tell them not to vote for the Mining Act Revisions, Bill 173. Because: these amendments don't protect Crown land from mining—not even providing a buffer-zone between these operations and local residents.   All previous claims on privately-owned land are still valid.  And they completely ignore the unique dangers inherent with uranium mining.

For Oxtongue, that's Rick Johnson, MPP
Contact info:
Queen's Park
Room 330, Main Legislative Building, Queen's Park
Toronto, Ontario, M7A 1A4
Telephone: 416-325-6553
Fax: 416-325-6640
Constituency Office
14 Lindsay Street North
Lindsay, Ontario, K9V 1T4
Telephone: 705-324-6654
Fax: 705-324-6938
Riding Information:
Haliburton-Kawartha Lakes-Brock
Riding President: Paul Hough
Telephone: 705-320-8835
email:houghp@gmail.com
See Riding Map
____________________________________________
SUMMARY OF RANDSBURG INTL. GOLD CORPORATION ANNUAL REPORTS
(as reported by an area cottager)
"The Randsburg website does not show any current project activity for the McClintock Township site, so I did a search of all their annual reports which are listed only up to end of 2006 on their website. The others I had to find on Sedar. I have summarized all the references to McClintock in the attached Word document. Subsequent quarterly reports to June, 2009 do not give any additional information about McClintock, as they have shifted their focus to 3 other sites: Brazil, Idaho and Titan Project, north of Sudbury."
"They do not mention any interest in exploring for uranium in any of their filings. That is not to say that they have no interest, so I will keep an eye on their TSX symbol for any announcements. Here is a short version of the summary:"
July 2001 – acquired claims in McClintock and Livingstone townships
Dec 2003 – started drilling in McClintock Township
Jan 2004 – announced significant base metal discovery in McClintock
Jan 2005 – further drilling but no new announcements
Jan 2006 – 2007 – no activities or announcements about McClintock
Jan 2008 – write-down of McClintock to $1, but will keep the property on its books for possible future exploration.
Jun 2009 – first and second quarter filings mention the write-down, but no activity at McClintock
"So, for now, I would not be concerned with this company or its claim in Algonquin Highlands unless they were to start drilling again."
____________________________________________
From: Andy Muirhead
The other day I saw for the first time the page [on www.OxtongueLake.ca] concerning Randsburg International's actvities in McClintock.
I have taken on some minor research into this – I have made my living in mining / exploration for the last…far too long.
I am NOT a supporter of mining in inappropriate places and, just as with the airport issue, feel that there is far too little information to and involvement of the local populace in decisions that may negatively affect their lives and properties. I believe that the McClintock area, for a number of reasons, is an INAPPROPRIATE place for a large scale mine of any sort.
I have dug up a few interesting things so far – but it is early days, yet.One thing that I would like to mention which may help folks out there who are in opposition; It does no good to scream that the sky is falling when it isn't. There is no MINE, open pit or otherwise, operating in your neighbourhood – nor is there ever likely to be one.
There is no historical data suggesting any significant concentration of Uranium in the region around McClintock, and the geological setting makes it highly unlikely that any will be discovered.
Historical work in the McClintock area – much of it initiated up to 40 years ago by LOCAL residents – and the focus of recent work, are of a nature that would not reveal Uranium deposits if there were any.
Now, a big hole in the ground is a big hole in the ground, whether they are extracting Uranium, Nickle – Copper, or just blocks ofgranite for kitchen counters… and if there is any risk of negative impact, or if there is significant local opposition to exploration and mining, then there should be attention paid and responses made by those entrusted with the management of our lands and resources.
However, it is best to get facts straight. When the people you are opposing say, "They are using scare tactics and confusing the issue." you want them to be wrong.
I will continue to look into this and make any information available.
Keep up the GOOD fight(s) and leave the dirt to the developers.
Cheers,
Andy
From: Susanne Lauten
Dear Mr. Muirhead,
Thank you for your letter.  I'm very happy to learn that someone with your qualifications and experience is interested in researching the Randsburg claim in McClintock township.  I'd just like to clarify, however, that I've been very clear from the outset, that this mining company is in the exploration stage only, that they're looking for nickel, and not for uranium. The fact that no radiometric map of this area is on file at the Ministry of Northern Development and Mines, also suggests that there's no significant uranium to be found there.
I'm relieved to hear that you don't believe this to be an appropriate area for mining of any kind. But I'll leave this for you to explain and elaborate upon, if you care to.
However, the wholesale destruction that Bancroft Uranium Inc. (www.bancrofturanium.com) wrought upon 50 acres of mature forest between Gooderham and Tory Hill, and on the banks of the Irondale River, cannot be brushed off as an illusion.  You can see the CHEX TV footage of our visit to this exploration site with Haliburton-Kawarthas MPP Rick Johnson (www.youtube.com/watch?v=73PrkSH4nzY).  And the CEO of El Nino Ventures was quoted for an investigative report in Cottage Life Magazine, as saying, "We're waiting on better times."  And Abitibi Mining recently dropped their 9000 acre claim in South Haliburton, only to have it picked up by another company.
And this laying-to-waste of cottage country wilderness and prime animal habitat will continue, upon any speculator's whim, until Ontario has a moratorium on uranium mining and exploration.  Other provinces have such legislation, and we believe that Ontario will someday have it too.  But it's a big job. So I'll get back to it, content in the knowledge that you're looking after things in the "nickelbelt."
After what I've seen at Gooderham, I wonder how many acres the people at Randsburg will scalp, scrape to bedrock and perforate, before they find what they're looking for, or give up and go home.
Sincere best regards,
Susanne Lauten
Cottagers against Uranium Mining and Exploration (C.U.M.E.)
cottagers.vs.mining@sympatico.ca
(905) 895-6869
(705) 286-6147
____________________________________________
Statement from Susanne Lauten, Cottagers against Uranium Mining and Exploration (CUME)
For half of the year I call my rustic island retreat on Gull Lake, home. Six months ago, I founded the network Cottagers against Uranium Mining and Exploration, C.U.M.E.  We've been growing exponentially. The Globe & Mail, The Toronto Star, Cottage Life Magazine, CHEX TV and CBC radio's World Report have interviewed me.  I'm glad this issue is finally getting the media attention it deserves, because all of Haliburton county is under siege by the mining industry.

There is a large-25km2 mining claim staked by Randsburg International — the McClintock project — in the northwest corner of Haliburton County (formerly McClintock township).
My contact at Mining Watch Canada stumbled across this exploration site while searching uranium-mining claims on my behalf.  He reports that Randsburg has already spent significant amounts of money exploring several sites clustered together over this large area, approximately 2 kms east of Oxtongue Lake, North of Kawagama Lake, and bordering on Alqonquin Park.   The southernmost mine site is about 20 kms north of Kennisis Lake.
Some information on the mining company is available on www.randsburginternational.com — Titan Project.  On the displayed map of Ontario, you'll see the label "McClintock project" and an arrow pointing to the area in question.  No other details are provided, however.  I called this company's head office in Toronto to ask whether they're exploring for uranium.
"There might be uranium there," an employee said, quite arrogantly,  "But we're not testing for it.  We're looking for nickel and copper.  But don't worry…it's in the middle of nowhere.  And if you're worried about radon gas, you should sell your cottage."
A call to Gary Schultz, Head of the Oxtongue Lake Association and owner of the Alqonquin Lakeside Inn, revealed more information.  He said that Randsburg has been around for a while, maintaining its claims, and that its helicopter survey crew stayed at Gary's Inn.  Here they spoke of Randsburg 's plans to create the "biggest open-pit mine in Ontario."
This highlights, among other concerns, one of the inequities of the Ontario Mining Act:  that such a massive mining project could be undertaken without anybody even knowing about it.  I've reported this new find to both the local and Toronto newspapers, who are following up on it.
For more details, please feel free to contact Ramsey Hart at Mining Watch in Ottawa.  This agency is providing a fantastic service as a watchdog on the mining industry. Phone:  613-569-3439
Also contact:
Haliburton-Kawarthas Conservative MP Barry Devolin, devolb@parl.gc.ca
Haliburton-Kawarthas Liberal MPP Rick Johnson, rjohnson.mpp.co@liberal.ola.org
Reeve Eleanor Harrison, 705-489-2128, eharrison@algonquinhighlands.ca
You may also want to get in touch with municipal councilors of the Township of Algonquin Highlands.
Susanne Lauten
Cottagers against Uranium Mining and Exploration — CUME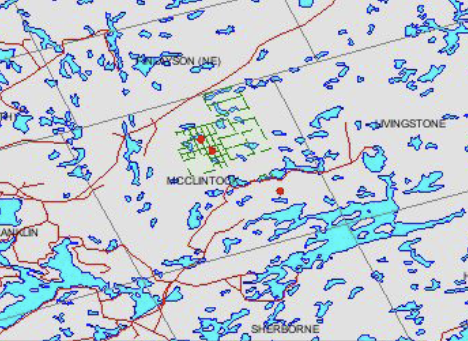 ____________________________________________
SHADES OF GREEN
Why is someone drilling in my backyard?
From the Paudash Lake Conservations Association website
Jun 06, 2009 04:30 Am
The province claims it made peace with residents of cottage country when it made private property in Southern Ontario off-limits to prospectors.
Its new policy, announced this spring, "takes bold steps toward a modern, innovative Mining Act that would balance all of our respective interests, benefit Ontario communities and support a vibrant Ontario minerals industry," says mines minister Michael Gravelle.
But "nobody is happy," says Robin Simpson, a leader in the battle to stop uranium mining in Haliburton County, a couple of hours northeast of Toronto. "We were used so the minister could say there were proper consultations. They obviously weren't listening at all."
Many cottagers and full-time residents of Haliburton and, further east, Frontenac, are up in arms over companies trying to take advantage of renewed interest in nuclear power by reviving uranium mines that briefly operated a few decades ago.
Ontario's Mining Act lets prospectors stake claims, without seeking permission, on government Crown land and on private properties where the owners don't control the rights to minerals under the surface.
Claim holders are then free to conduct drilling and other exploration work, which usually entails bulldozing or blasting. It's illegal to attempt to stop them.
The property owners, including many cottagers from the GTA, along with aboriginal groups in Frontenac, have campaigned effectively against potential mining developments.
For First Nations, the issue is treaty rights: Prospecting and exploration are happening on land they claim. Non-natives are concerned about their property rights, and the prospect of radioactive air and water pollution, as well as noise, from mines on Crown land near their homes and cottages.
The province announced recently aboriginal communities are to be consulted before further mining activity, and prospectors can no longer claim private land anywhere in southern Ontario. (There are also new measures for the Far North, equally flawed, which I'll write about in a future column.)
But aboriginal leaders complain the province could still impose mining on their traditional lands. And Simpson points out the new policy does nothing about mining on Crown land, viewed as the biggest threat to an area aiming to create a tourism economy.
On top of that, the province will still hold the mineral rights under private properties, and reserves the power to eventually allow mining on them.
"It's the same old, same old … a big bloody sham," says Simpson, whose land has been partially staked for uranium exploration.
"It's a crock," says Steve Quebell, sawmill worker who lives with his wife and teenage daughter on 33 hectares of forested land in Haliburton that's been claimed by a company planning to mine nepheline, a relatively rare mineral used in glass and paint.
The ministry is backing the claim, despite evidence, says Quebell, that it wasn't staked properly and that holes were drilled too close to a stream. The exploration crew bulldozed 500 square metres of trees and soil for one of the six holes it drilled.
On the larger front, having seen their original demands ignored, the cottage-country residents will now campaign for a prohibition against any mining on Crown land in southern Ontario.
Their efforts include pressuring members of the Legislature, many of them Liberals, who represent cottagers' home ridings.
Mining in southern Ontario accounts for only one per cent of the industry's spending in the province. The companies involved are minor players, and most of their projects will amount to nothing.
As staking and exploration expand in prime vacation areas (there's also been activity in the Parry Sound area), the government appears to be creating a lot of trouble for itself for little benefit.
Peter Gorrie is the Star's former environment reporter. He can be reached at: pgorrie@sympatico.ca
____________________________________________
After a public consultation process the Government of Ontario has proposed amendments to the Mining Act. The amendments were introduced in the legislature this spring and have received approval at first and second reading. They have been referred to a legislative committee and there will be limited public hearings this summer.

The amendments have been posted on The Environmental Registry as posting 010-6559 and the deadline for public comment is July 4, 2009. The web address for the Environmental registry, where you can record your comments  is: www.ebr.gov.on.ca <http://www.ebr.gov.on.ca/> .

Background
FOCA has participated in the Mining Act review process for several years through our representation on the Minister's Mining Act Advisory Committee and we will continue to represent the interests of cottagers.  However it is also important that individual cottagers and associations tell the government directly what they expect from the revised Mining Act.
At the present time Uranium exploration is of great concern to cottagers in the Shabot Lake area of eastern Ontario and in the Gooderham/Bancroft area of Haliburton. Destructive exploration activities have occurred and been documented on private land and on crown lands abutting private properties. There is a good website established by the group Fight Uranium Mining (FUME) which documents the experiences and concerns of cottagers in those areas at www.fighturanium.com <http://www.fighturanium.com/> .
There was also a good article on this subject in the May 2009 issue of Cottage Life Magazine (http://www.cottagelife.com/index.cfm/ci_id/19198/la_id/1.htm) <file:///C:/Documents%20and%20Settings/FOCA/Local%20Settings/Local%20Settings/Temporary%20Internet%20Files/Content.Outlook/YOR244D2/(http:/www.cottagelife.com/index.cfm/ci_id/19198/la_id/1.htm)> .
The Proposed Amendments
The proposed amendments, which are well documented on the EBR posting, appear to address the issue of landowners in southern Ontario who own their surface rights but not their mining rights by automatically withdrawing these lands from mineral staking. In northern Ontario landowners of such lands will be able to apply to have their lands withdrawn from staking. Unfortunately these provisions do not apply to lands which are already under active claims such as those in the uranium exploration areas around Gooderham and Shabot lake.
WHAT STILL NEEDS TO BE CHANGED
In FOCA's view the two most serious omissions from the proposed amendments to the Mining Act relate to the role of municipalities and municipal plans, and the lack of environmental assessment.
The Role of Municipalities
In Ontario, Municipal Official Plans do not apply to Crown Land and therefore municipalities have no say over what happens on crown lands within their areas and mining exploration can occur right up to the property lines of private land holders with no municipal input. This means that in areas like Haliburton where  over many decades the economy has been transformed from mining and forestry based to tourism, recreation and cottage based, the municipalities still have no say with respect to future mining exploration and mine development. Residents have been shocked to find crown land adjoining and near their private lands staked and then subject to destructive exploration activity while their local municipalities have no control over what is happening. FOCA believes that it is in the interests of all cottagers to urge the government to bring all crown lands, at least in Southern Ontario, under the Planning Act to ensure that municipal plans and zoning  will apply to these lands and that residents will have the same land use protections they have with respect to developments on private lands.
Environmental Assessment
Mineral exploration activities and mine development can have major environmental impacts and yet mining activity in Ontario remains exempt from the Environmental Assessment Act. The proposed amendments include new provisions related to exploration plans and exploration permits as well as reference to rehabilitation of exploration sites. But the details of these provisions will not be spelled out until the regulations are written after the final passage of the amendments. FOCA is concerned that the new regulations must be explicit to identify and mitigate impacts which affect private property owners and crown lands that that are regularly used for recreation purposes. FOCA believes that it is in the interests of all cottagers for all mineral exploration activities to be subject to serious environmental review and that all mine development must be brought under the Environmental Assessment Act.
WHAT CAN ASSOCIATIONS AND INDIVIDUALS DO?
1. You can record comments on the EBR posting until July 4, 2009.

2. Over the summer you can contact to your local members of the provincial government. In contacting members of the Ontario Legislature remember to contact both your cottage representative and your home representatives (http://www.ontla.on.ca/web/go2.jsp?locale=en&Page=/members/members_main&menuItem=mpps_header <http://www.ontla.on.ca/web/go2.jsp?locale=en&Page=/members/members_main&menuItem=mpps_header> ).

Many cottage country MPPs are well aware of these issues and already representing our concerns. But urban representatives, who hold the vast majority of votes in the legislature and in the government caucus, are less likely to be familiar with the issues and may be surprised to learn that crown lands in cottage country are not covered by municipal plans, and that environmental review and environmental assessment do not automatically apply to mining activities, be sue to let them know that these issues are a concern to you.
____________________________________________