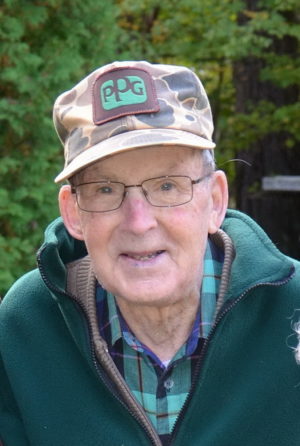 Marvin would have celebrated his 93rd birthday on May 1st. How does one begin to summarize the life of someone who lived just shy of a century and of someone who played such an important part in my own life? Many people knew my dad, Marvin, on a casual basis…perhaps passing the time of day with him as they walked by his property at Oxtongue Lake. Others have a deeper knowledge of his character and personality as they became revealed over the course of a long friendship or through working with him years ago. Few people know the story of his humble beginnings, so I'd like to give you a glimpse into his past.
Marvin was born on May 1, 1923, to Violet and John Bowen of Highland Grove, Ontario. Marvin and his nine siblings grew up on the family farm on West Line, later known as Bowen Road because there were so many Bowen's living in the vicinity.
A few years ago, Robert and I took mom and dad to revisit his old family farm, and over the course of several days, he toured us around his old stomping grounds where we gathered stories triggered by fond memories of his childhood.
Dad's memory never failed him, and as we wandered the old acreage, he recalled names of countless relatives, neighbours, and friends, the locations of once sturdy homesteads and stables, and he spouted recollections with each passing minute.
Dad told us that his parents owned 5 or 6 cows, 6 or 7 sheep, a couple dozen chickens and 12 or so turkeys. Each fall, some of the chickens would be sold to buy footwear for the kids in order that they could walk the 3 miles to school once the ground became covered with snow. Dad figured that his love of oatmeal stemmed from those early childhood days when, before school, the hearty breakfast cereal was served on plates because no cereal bowls were to be found in the house.
Being the two youngest boys, Warren and Marvin often would dream up novel ways to entertain themselves. Their dad's sheep used to pasture on a neighbouring property where a barn and a vacant house were located. The brothers thought it great fun to tease the ram and get him all fired up, then try to outrun the ram as they made their way home. Sometimes the ram would be right there at their heels, and the boys would have to take refuge in the vacant house with the ram in hot pursuit. They would escape into one of the bedrooms, and laugh themselves silly as the ram stood banging its horns on the doorframe trying to get after the boys. I like to think that dad's perpetual playfulness and sense of humour were borne of such shenanigans.
As a young man, Marvin took great pleasure in hunting and did the odd bit of trapping for extra money. Dad recounted to us the day when he shot his very first deer. It was one October 14, year unknown. His cousin, Charlie, had walked in to the head of Sandy Lake and released his collie to put the run on a deer. Marvin was at the foot of the lake and shot the deer even though it was in the off season. Dad went on to tell us that most of the deer that he shot during those early years were killed in the off season out of necessity for food to eat. Conservation officers were few and far between, he said, so being caught was not a concern. Of course this sparked an indelible memory because Marvin was helping his own father to feed the family. Dad's early hunting expeditions led to a life-long interest in the sport.
Some people will remember my dad hunting during deer season as a member of a couple of local hunt camps. As long as he was able, Marvin joined other hunting enthusiasts for the camaraderie, the pleasure of standing his watch, and to put meat on our table at home. When pouring over photo albums recently, we came across countless photos wherein dad, the proud hunter, stood poised with his rifle in front of the year's take. Dad hunted up until he was about 80 years old, so when Ken Williams dropped by for a visit last year, and told dad that their hunt club had named a watch in dad's honour, dad was deeply touched. Marvin's Watch, in memory of the many years that dad hunted with them, had touched a chord with dad, and he struggled to keep his emotions under control.
Another interest of my dad's that may come as a surprise was his appreciation for country music. Folk songs were often sung at Violet and John's house, one such tune sticking in dad's memory forever. Even as he lay in the Hospice, dad sang a segment of a song that he first heard as a toddler sitting on his grandmother's knee. That tune was called Little Adobe Shack. Marvin came to further appreciate music at the hand of his dad, John, who played the violin. He then went on to teach himself to play the guitar and to sing, which served dad well in later years when courting Flossie. Between serenading Flossie and impressing her at the local dance hall where they met, she was swept off her feet and 3 years later said "yes" when he proposed.
Marvin developed a strong work ethic early in his life doing chores on the farm that included cutting down trees, helping to make maple syrup and picking galvanized pails full of blueberries alongside his sisters. When only 12-13 years old, he was hired by a neighbour for 50 cents/day to work in the bush where he chopped down white birch trees and cut the trunks into 4-foot lengths called white birch bolts. When looking for full-time employment, jobs were hard to come by, but Marvin always managed to find work, and many of the jobs he did were connected to the logging industry. That is what brought mom and dad to Oxtongue Lake. They followed the prospect of work with Frank Hubbel who moved his sawmill from the Bancroft area to Long Lake now Park Lake.
Marvin worked at that location under Frank, as well as on the east side of Oxtongue Lake under George Armstrong, and later at Frank's sawmill at Oxtongue Lake. Dad told us dozens of stories about the logging operation and the many men who toiled in freezing cold weather to skid the logs while the ground and lakes were frozen. Dad cut trails through the bush, grubbed out stumps, piled logs, manned the bullropes, and handed off the lumber. He told us how he would have to keep patching his mitts because the ropes running through the leather palms wore holes in them quickly.
In April of 1950, Marvin and Flossie bought their property at Oxtongue Lake, which, as dad said, left them with barely two pennies to rub together. They cleared the land using their old '37 Chev to pull out the roots of pine trees, and finally, 2 years later, were able to begin building their house.
To finance the construction, dad managed to keep employed at various jobs: as night watchman at the West Gate while it was being built; working with Ray Smith to build the log buildings at Timber Trail and Lakewoods resorts at Oxtongue; and helping to build the cottages at both Cloverleaf and the Pines resorts before he managed to secure a full-time job with the Department of Highways. Dad worked with them as a patrolman until he retired in 1984.
When not at work, dad laboured long hours in his huge vegetable garden so the fruit cellar could be stocked with vegetables for the winter. For a number of years, he tapped maple trees that grew on the hills behind his property, and produced enough syrup to see us through to another spring. And loads of wild raspberries and blueberries were squirreled away, the bounty from frequent forays into Algonquin Park. That was a pleasure that dad engaged in every summer until 2014. Despite the hard work involved, he loved to be knee-deep in crunchy lichen with White-throated Sparrows singing in nearby trees as he scooped handfuls of sweet ripe berries into a worn granite basin. Even the black bears didn't put him off though one did pop up on the other side of a thicket once when the two were busily foraging.
I knew dad as a person who enjoyed the simple pleasures in life: toiling in his garden, walking in the woods, playing cards, eating a good home-cooked meal, the company of his family and friends, canoeing and fishing, another sport with deep roots in his childhood.
One time, as kids, he and Warren wanted to go bass fishing, so they walked barefoot way south into Sandy Lake. Their mom packed dandy picnics into a brown paper bag that the boys placed on a rock while readying their fishing lines. Inadvertently, one of them bumped the bagged lunch which promptly rolled off the rock and into the water. Sinking out of sight, it led the two of them to give up on fishing that day and to return to the farm. Making the best of a bad situation, dad recalled that he and Warren then made their way to a local carnival in Highland Grove. The highlight of the visit was when dad purchased for 5 cents the very first banana that he had ever eaten. And so went that fishing tale.
Many years later, with fellow fishermen Stan Keown, Howard Beickman, and his brother Warren, dad's fishing trips to several nearby lakes numbered in the dozens. Seldom coming home without a catch proved that the lakes were well stocked, and we ate well. We got our first snowmobile in l967 and that opened up a whole new world of fishing during the winter months. We had outings that were as much fun for the cookouts as for the actual act of catching a trout…not to mention the thrill of racing through the bush on our little 10-horsepower Skidoo. I think that is when Colleen and I really came to enjoy fishing almost as much as our mom and dad. It sure beat being eaten by swarms of blackflies and mosquitoes when fishing for speckled trout in the warmer months.
That is when we found ourselves fishing from a canoe, and boy, did dad love his canoe…or should I say canoes? Over the years, he owned a Sportspal, a square-ended canoe, and a series of other canoes, a couple of which still lay hidden at remote lakes. These served him well when he assumed the role of fishing guide for various guests who used to stay at mom and dad's business, Pine Lane Cottages. He knew how to ensure success when bass fishing or trolling for lake trout, and many were the 12 and 18 pounders that dad and his buddies pulled from the lakes. But dad's finest moment when it comes to fishing was on a trip to Florida with mom, and Ted and Gloria Morrison. Ted and Marvin went deep sea fishing, and Marvin caught a winning entry in the local derby: a giant wahoo. We heard that fish tale retold a good many times.
If dad was being honest, though, he preferred to remain close to home, so it still amazes me that he met the challenge one summer when I put the question to him "why can't we take a vacation like other people?"
Dad had introduced us to camping at a few local parks, but my sister and I were dying to go on a real holiday like those tourists that came to stay at our cottages. So in 1965, dad and mom packed up for a cross-country trip to Vancouver Island with a tent trailer in tow. Annual vacations became the norm, and with me as navigator, we traveled this country from the east coast to the west coast. Dad could be seen white-knuckling the steering wheel as we traversed the Rocky Mountains and when he braved the rush hour traffic in Montreal, and the experiences gave me a real love of this country.
Mom and dad gave up traveling for many years, while Colleen and I attended post-secondary schools, and it wasn't until 1977, when Robert and I traveled to Hawaii, that dad seized the opportunity to fulfill mom's wish to see that tropical paradise and joined us on that trip. After dad retired, their travels continued to places like Florida, South Carolina, Tennessee, Newfoundland, and dozens of bus trips to other destinations, but dad's dreams were fulfilled when they took a cruise to Alaska, the one place that was on his bucket list.
With their two Skidoos all but retired in 1974, it was our turn to introduce dad and mom to the pleasures of a new sport, cross-country skiing. Dad thought this a great idea since he had fond memories of his brother, Irwin, fashioning a pair of skis with leather bindings from two old pieces of wood he found laying around the farm. So that Christmas, we gifted mom and dad with skis, and man, did they make use of them! Every winter from then on, mom and dad could be seen skiing the various trails in and around Algonquin Park, and any time we had a chance for an outing with them, they put us to shame with their stamina. Good friends, Etta and Elroy Corcum, accompanied them a good share of the time, and many are the stories that abound from those outings especially those that involve lunchtime euchre games in the warm up shacks, or dad taking a header into the snow.
If those were the only times that dad took a fall, we would have had nothing to worry about, but over the years, we began to think that dad had 9 lives. As many of you know, despite our protests, up until dad was 90 years old, he continued to be up on the roof of the house shoveling snow. We are fortunate that he never fell off that roof, but let it be known that he did take many spills. Several times he fell off a ladder; once he tumbled backwards into the tub. Dad missed a step and fell halfway down the basement stairs only a few years ago, he toppled off the roof of the storage shed, and once he plummeted out of a very tall pine tree and landed right beside a fence post. A carpet of soft moss broke that fall, and he stood up unscathed. Now, that's what I call luck!
Out of necessity, dad developed many skills in the workshop and that is why he became known as the cobbler king. During his retirement, he transferred those skills to woodworking with canoe paddles being his specialty, but as anyone in our family knows, he also passed on a good many handmade arts and crafts. Many of you have probably been fooled by his Great Blue Heron that stands watch at the beach or have noticed the different bird houses erected around his front yard. These were all labours of love that filled many pleasant hours at his workbench.
As dad grew ever older, he loved puttering in his garden where he babied his flowers and prize-winning vegetables. Few opportunities were missed to show off his dazzling dahlias or beautiful begonias, and he was always keen to walk visitors around his vegetable garden even though, over the years, it had grown smaller and smaller. Perhaps his proudest success was the 14-foot sunflowers that won him first prize at the Huntsville Fall Fair a mere 5 years ago. The real challenge then was fitting them into the car to take them to town…but the cobbler king found a way!
Some of my fondest memories of dad are those where his playfulness shone through. He was always a fun-loving person quick to make us laugh as children. If not pulling on a silly hat to amuse us, or putting on a funny face, he would feign sinking like a stone when joining us in the lake for a swim. And dad's neighbour, Andrea, will tell you how dad, even as an elderly gentleman, liked to play a good joke. One recent Hallowe'en, dad went rapping at Andrea and Peter's door. When Andrea answered the knock, she was met by a hobbled old crone complete with witch's hair and hat. You got it right! It was dad. I guess it about scared Andrea out of her boots, and they all had a good laugh!
And dad LOVED playing euchre so endless hours were spent playing games in our household. With good friends and family alike, euchre occupied the evenings, and the house was filled with laughter. Dad was a sharp player, and one of his favorite sayings was "the devil hates a coward", this before he made some risky decision that often turned the tide of the game.
In summation, I will say that dad lived a good long life doing the things that he loved to do. And along the way, he inspired in us a love of the land and the importance of family.
We will all miss his gentle hand demonstrated as he lovingly fed corn to the ducks at the beach; his affection for a chipmunk patiently trained to fetch peanuts from his shirt pocket; dad's undying patience and utter joy at seeing bluebirds nest in one of his birdhouses after waiting 20 years for them to return.
It will not go unnoticed that he no longer maneuvers his trusty John Deere after a hefty dump of snow, or that he fails to glide along silently in his canoe reveling in the peacefulness of the morning's calm.
He may no longer stroll around his yard with watering can in hand, wander in the golden glow of the autumn woods, or bolster my game of euchre, but dad's spirit will always and forever reside at Oxtongue Lake…a place he loved so dearly.